I don't even know if the We Heart It Wednesday is still going, but I'm going to do it anyway!
Here's something you might not know about me: I love hockey. My first date with Chris was at a San Jose Sharks and Chicago Blackhawks game.
And more specifically, I love the Detroit Red Wings. You may be wondering why I love the Detroit Red Wings, given that I was born and raised in LA, which has its own hockey team. The answer to that? A fanatical Kings fan for an older sister who was tired of me copying her and a hot captain by the name of Steve Yzerman. I also have an irrational hatred of the Colorado Avalanche (ok, that's not so irrational), the St. Louis Blues (partially based on a hatred of Brett Hull), and the Mighty Ducks (but not the movies, I love the movies).
Steve Yzerman. See? Hot.
Ozzie and Roy. I hate Patrick Roy (see above, where I said I hate the Avs). But I love fighting goalies.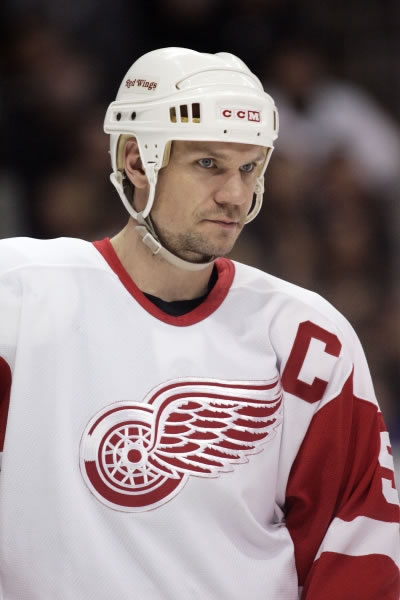 Nicklas Lidstrom. Not a bad replacement for Stevie Y. when he retired.
I had a poster of Shanahan in my room when I was in high school.
I need to get back into hockey. And I need to go to Detroit and see a game.
Filed under: Just a Picture, Meme, Sports | 11 Comments »